Did someone say drones and how it all began for me?
I heard about drone just back in 2015 and the possibilities that came with it, I love the idea of having a drone to capture images and footage of my friends and me having fun doing everyday activities. So, I bought a Phantom 2 with a GoPro attachment as a hobby drone to do the job. As a beginner, I crashed this bad boy a few times flying to close to trees haha.
I needed to add a portfolio to my web design business
I decided to build my drone website or blog to talk about my adventures of what I got up to with my Phantom drone. I spend very little time on optimising my website, but it turns out that I started to get online enquiries and I kept having to turn it down.
I needed to add a portfolio to my web design business
I decided to build my drone website or blog to talk about my adventures of what I got up to with my Phantom drone. I spend very little time on optimising my website, but it turns out that I started to get online enquiries and I kept having to turn it down.
So, what do I do now?
I sold my Mazda I bought from working with Jim's Group for about $11k and used it to obtain my drone license as a remote pilot and a commercial operator license. I bought the new Phantom 4 drone in 2016 as an upgrade from my Phantom 2 that's not working anymore.
My overall costs for training and purchasing small equipment adds up to about $6,000.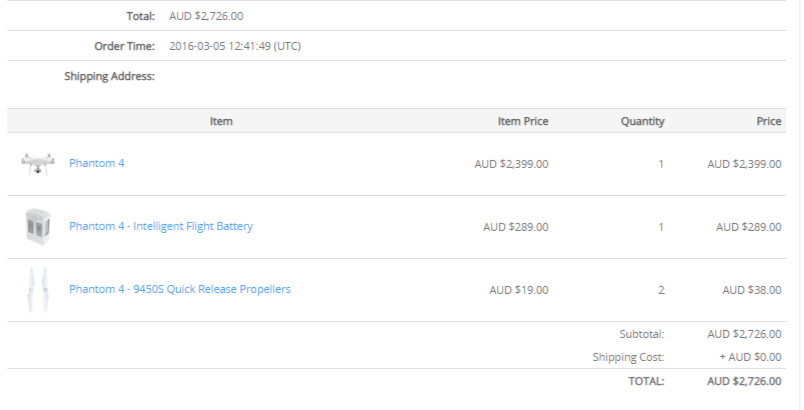 Learning how to use the drone
I spent as much time as possible learning how to use the new drone with its amazing, intelligent flight modes, getting the feel of it and capture pictures and video footage to use on my website now turned into a service provider.
I was fortunate to have a friend who's looking to capture his property with a drone, so I took the opportunity to shoot ground photography, video and drone footages to use on my website. The final product seems to work well to get me off the ground.
I concentrate on real estate photography and video as a service, and soon after that I started getting enquiries in for 3D Mapping and spend my time learning how to do this with DroneDeploy before going out to perform my first 3D mapping job.
Soon after my first 3D drone mapping job on a block of the land/farm, I made sure when I am out to do drone photography or video services to capture 3D as well to use for my portfolio, and I needed a few more "projects" to showcase my abilities.
I start to push harder and harder with SEO (search engine optimisation)
There are opportunities here for me to make extra income, so I took my SEO to the next level, pushing it hard by making videos and writing articles related to my industry. By the end of 2018, I have about four websites I built trying to rank on the first page of Google search engine for keywords such as "Drone Photography and Drone Photography Melbourne".
The websites are:
https://www.aerialphotographypro.com.au – the first website that got me leads and into the drone photography business.
https://www.aerialvideographypro.com.au – now ranking higher than the first webpage, I liked it better and spent more time on it.
https://www.dronephotographypro.com.au – spent very little time on this website but it is now ranking on the first page of Google.
https://www.hiredroneoperators.com.au – I started this website as a drone directory, and I keep on changing my mind on how I want it to be. It is now a drone service that employs contractors outside of Melbourne to take on drone projects. I have contractors that can take on bigger jobs that I am unable to do due to not having the right equipment. I shouldn't turn down jobs located outside of Melbourne; thus, this new model is born in 2019.
Hire Drone Operators, is now becoming my primary drive to get work coming in, I work endlessly on creating more and more content about the services we can offer to our clients. Finding the right contractors with the right tools to take on small to large projects.
Most operators don't know or want to fork out a marketing budget, and this model will assist them in getting new leads and work in their direction. We take a cut in the margin and then it is put back into generating more leads. I do not keep anything in the pocket, and it is invested back into the business for brand awareness and as an authority in this industry. Think of Hire Drone Operators as an agent who works with both parties to get the results.
Invest in Google Pay Per Click Advertising
I continue to spend money on PPC (pay per click) campaign, or I like to call it Google AdWords, now just Google Ads. My cost per click is around $2, that's not bad compared to other industries; this will soon go up just like the others.
Why I must learn how to do post-production
Up to now, I see a lot of pilots on the rise getting into the drone photography, video, spotting and surveying business lack skills in post-production, the same goes for me. I made sure I continue to learn and fine-tune my editing skills using Adobe Lightroom, Photoshop and Premiere Pro.
Why I think most pilots fail to get off the ground
During my five day course to obtain my remote pilot license, my tutor said to me "most people are looking for a job as a drone pilot in a company, and no one is confident enough to get out and earn using a commercial license". Well, you see, I know deep down you are competing against other pilots, and most companies already have existing and experienced pilots. Plus, I am getting leads from my website so I can attempt to take on jobs to build up my portfolio.
Being a new pilot on the market is tough especially if you don't know how to market yourself and get leads in, finding a job in the field is again going to be tough. Everybody dreams about getting into the drone industry, so they fork out lots of money purchasing premium drones such as the Inspire 1 but are not getting any returns. It's not that simple, just because you have the nice gear you will have clients coming in.
What about buying a drone franchise?
The same goes for people who buy a franchise from National Drones. I have been following a few pilots who started in 2016 to only see them die within two years. I know a lot of reselling of regions happening at the moment.
Here's why you should choose other drone franchise if you are thinking about purchasing one
Drone services are somewhat new, and the demand can be low, if you only concentrate just on flying drones, you will eventually die as a franchisee. Working to get big and commercial jobs is time consuming and how many of that job will you be doing in Melbourne regularly?
You are better off joining other franchise like Jim's Photography and Drones or Real Drone Photography. Why? You have to remember that their bread and butter is in photography and video services. There is a lot more work in these areas than comparing with a drone. You have more skills that will support you and continue to earn your weekly income.
If you look closely at the number of search queries on Google for people looking for drone services to ground photography and video is a huge gap.
From my experience and opinion
As I mentioned above why you need to join other franchise like Jim's Photography and Drones and Real Drone Photography/Real Estate, instead of a drone focus franchise like National Drones.
To survive as the new guy or a little guy in the drone photography business if you are not buying a franchise at $80k. You need to find other work to generate income, like Jim's or Real Drone franchise their bread and butter is in photography. If you are starting as an independent drone business, you need to get work to support your new business whether you work part-time as an Uber Driver or as a waiter.
For me, that's why I started my winery tour business in 2019, and I have my digital marketing business to generate my income while I focus on building my brand for Hire Drone Operators. To learn more about my Hire Drone Operators business visit https://www.hiredroneoperators.com.au
How to start drone photography and video business on a budget
I would suggest getting a Phantom 4 Pro ($2,400) but they are currently out of stock, and it is unsure if they are planning on producing more. My next step for you is to get the Mavic 2 Pro or Zoom with Smart Controller for an ultra-bright screen for outdoor flying. Also add the Fly More Kit that comes with extra batteries, propellers and a shoulder bag. They both have the features to take on drone photography and video in 4K resolution.
The overall cost for this equipment is $3,348. If you market yourself well, you can pay this off pretty quickly. As more and more people getting into the industry, you are competing on price, you are now getting pilots charging around $100 – $150 per hour. If you have to spend money to get work, you are taking away from your hourly rate. It is good to start but you need to increase your prices to make it a profitable business, your work needs to be spot on and better than new pilots stepping.
Purchase your equipment from my affiliate link
Use the link below to make your purchase for the Mavic 2 Pro or Zoom or to learn more about this fantastic little product. It is an affiliate link from DJI when you purchased my link I gain credits to use in a future purchase. I will continue to provide tips and my journeys to create a perfect lifestyle.
Bigger budget in mind
If you are genuinely looking to pursue a career in professional drone photography and video services, you can invest in the Inspire 2 plus the ZENMUSE X7 camera for high-end filming. If you are spending in this amount of cash, you need to be charged higher rates – or have two options where you can offer a service with the Mavic 2 and Inspire 2.
Use the link below to make your Inspire 2 purchase at $4.699 at https://click.dji.com/AIl0W-y-CANx3X53_44_?pm=link

And the Zenmuse X7 – $4,299
at https://click.dji.com/AHNZXzYa2Y0lea_TLgBr?pm=link
That's a rough total start-up cost for gear at $10,000+ if you are looking to purchase extra batteries and propellers.
Thank you for supporting me.